DAEMON Tools Lite 5
5.0
Most popular product that offers easy tools for making simple disc image files and emulating virtual CD/DVD drives.
Key features

Functionality
Mount *.mdx, *.mds/*.mdf, *.iso, *.b5t, *.b6t, *.bwt, *.ccd, *.cdi, *.bin/*.cue, *.ape/*.cue, *.flac/*.cue, *.nrg, *.isz disc images to a virtual drive
Work with *.vhd, *.vmdk and TrueCrypt files
Create .iso, *.mds/*.mdf and *.mdx images of CD, DVD, Blu-ray discs
Compress your images to save hard disk space
Protect images with password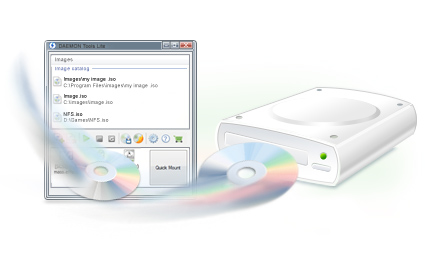 Easiest device management
Double-click image to mount or manage virtual devices manually
Work with virtual devices only when it is needed
Create up to 4 DT, SCSI or HDD devices
Customize virtual devices (drive letter, DVD region, etc.)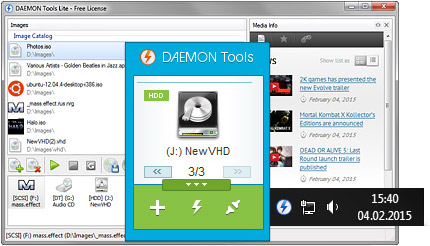 Simple user interface with basic system integration
Get quick access to all functionalities via program icon in the System Tray
Use File Associations to mount images right from Windows Explorer
Use powerful Command Line Interface for automation purposes
Perform basic actions via handy DAEMON Tools Gadget on Windows Desktop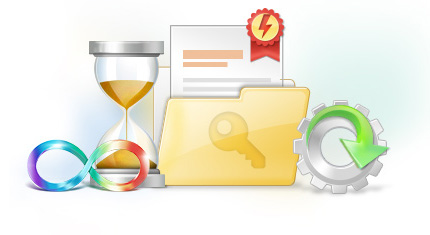 DAEMON Tools Lite for personal use
Get Lifetime updates for free
Install DAEMON Tools Lite on 3 PCs
Forget about third-party offers
Be the first in the support queue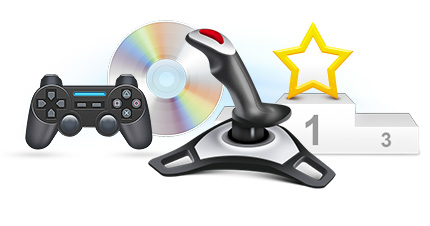 Get game boxarts, descriptions and more for image files listed in your catalog
Find the most popular images
Get recommendations
Enjoy game news, reviews, videos, contests and more
What's new:
Offers Quick Mount option;
Mounts VHD, VMDK, TrueCrypt files;
Provides improved usability;
Supports Windows 10;
Supports x64/x86;
Works with devices better and faster.
Windows 98




32-bit




up to 3.47

Windows 2000 SP4




32-bit




up to 4.35.6

Windows XP




SP3 32-bit / SP2 64-bit




Windows Vista




32-bit / 64-bit




Windows Server 2008




32-bit / 64-bit




Windows 7




32-bit / 64-bit




4.35.5 or later

Windows Server 2008 R2




64-bit




4.35.5 or later

Windows 8




32-bit / 64-bit




4.46.1

Windows 8.1




32-bit / 64-bit




4.48.1 or later

Windows 10




32-bit / 64-bit




5.0.1
Reviews
LIFEHACKER.com
"Last week we asked you to share your favorite disk image tools, then we rounded up the five most popular responses for a vote. Now we're back to highlight your favorite.DAEMON Tools led the pack by a comfortable margin with 40% of the vote."
Softpedia.com
"DAEMON Tools Lite is a software solution that will impress you, especially thanks to its advanced features that can deal with virtually all image formats on the market.Reliable application that creates virtual drives on your computer, providing you with the possiblity to emulate CDs and DVDs for instant access."
PCWorld.com
"If you spend a lot of time swapping and hence waiting on CDs or DVDs to mount, Daemon Tools Lite is worth its weight in gold. Even if you don't, it's a program you should download to keep in your bag of tricks--you'll find a use for it eventually."
Download.com
"The advantage is that you can burn the images you're using with DAEMON Tools Lite right away or just test an image before burning it to see if it was created correctly. DAEMON Tools Lite works with most image formats."
Softpedia.com
"...whatever you say this thing is worth every bit of it!
This program is excellent, and I highly recommend it. :)
When you want to load up an image, just right click the icon, and with a few menu clicks and a little folder browsing to file your image you have your image working as if its an actual burned image in a physical drive."
Filecluster.com
"Pros
- Small and highly stable program.
- Low resource requirements.
- Simple and functional interface..."
Awards