DAEMON Tools Lite 4
4.49
Das wahrscheinlich bekannteste Produkt, welches einfache Werkzeuge zum Erstellen von Images anbietet und virtuelle Laufwerke emuliert.
Veröffentlichungs-Hinweise

Unterstützte Betriebssysteme
Haupteigenschaften

Standard-Backupfunktion
Erstellen Sie .iso, *.mds/*.mdf und *.mdx Images Ihrer CDs/DVDs/Blu-rays
Schützen der Images mit einem Passwort
Komprimieren Ihrer Images
Verwalten Ihrer Imagesammlung
Virtualisierung von optischen Laufwerken
Erstellen Sie bis zu 4 virtuelle Laufwerke (DT- und SCSI zusammenI) zum gleichzeitigen Einbinden von mehreren Images
Anpassen von virtuellen Laufwerken: ändern von Laufwerksbuchstaben, DVD-Region, usw
Einbinden von den Imagetypen *.mdx, *.mds/*.mdf, *.iso, *.b5t, *.b6t, *.bwt, *.ccd, *.cdi, *.bin/*.cue, *.ape/*.cue, *.flac/*.cue, *.nrg, *.isz in ein virtuelles Laufwerk
Einfache Benutzeroberfläche mit einer Standard-Systemintegration
Erhalten Sie schnellen Zugriff auf alle Funktionen mitilfe des Taskleistensymbols
Verwenden Sie Dateiverknüpfungen zum Einbinden direkt aus dem Windows Explorer heraus
Verwenden Sie ein mächtiges Kommandozeilen-Interface zur Automatisierung
Führen Sie Standardbefehle mit dem nützlichen DAEMON Tools Gadget von Ihrem Windows Desktop heraus aus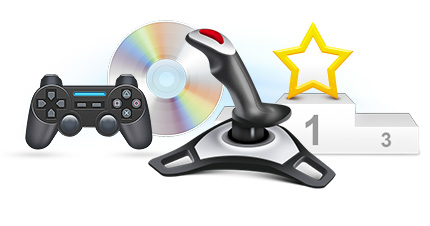 GameSpace
- Onlinedienst für virtuelle Datenträger-Nutzungsstatistik
Sehen Sie die Nutzungsstatistik dieses Datenträgerimages
Lernen Sie die Top 100 der beliebtesten Images kennen
Suchen Sie nach ähnlichen Datenträgern
Suchen Sie nach Ihnen fehlenden Datenträger-Images
Durchsuchen der beliebtesten Spielevideos und viel mehr
Fehler behoben:
BSOD im DT-Adapter mit Prüfer.
Kleinere Fehler.
Reviews
LIFEHACKER.com
"Last week we asked you to share your favorite disk image tools, then we rounded up the five most popular responses for a vote. Now we're back to highlight your favorite.DAEMON Tools led the pack by a comfortable margin with 40% of the vote."
Softpedia.com
"DAEMON Tools Lite is a software solution that will impress you, especially thanks to its advanced features that can deal with virtually all image formats on the market.Reliable application that creates virtual drives on your computer, providing you with the possiblity to emulate CDs and DVDs for instant access."
PCWorld.com
"If you spend a lot of time swapping and hence waiting on CDs or DVDs to mount, Daemon Tools Lite is worth its weight in gold. Even if you don't, it's a program you should download to keep in your bag of tricks--you'll find a use for it eventually."
Download.com
"The advantage is that you can burn the images you're using with DAEMON Tools Lite right away or just test an image before burning it to see if it was created correctly. DAEMON Tools Lite works with most image formats."
Softpedia.com
"...whatever you say this thing is worth every bit of it!
This program is excellent, and I highly recommend it. :)
When you want to load up an image, just right click the icon, and with a few menu clicks and a little folder browsing to file your image you have your image working as if its an actual burned image in a physical drive."
Filecluster.com
"Pros
- Small and highly stable program.
- Low resource requirements.
- Simple and functional interface..."
Auszeichnungen