DAEMON Tools Lite 4
4.49
Najpopularniejszy produkt, który oferuje proste narzędzia do tworzenia obrazów płyt i emulacji wirtualnych napędów CD/DVD.
Obsługiwane systemy operacyjne
Kluczowe możliwości

Funkcjonalność
Montuj obrazy *.mdx, *.mds/*.mdf, *.iso, *.b5t, *.b6t, *.bwt, *.ccd, *.cdi, *.bin/*.cue, *.ape/*.cue, *.flac/*.cue, *.nrg, *.isz w napędzie wirtualnym
Twórz obrazy .iso, *.mds/*.mdf i *.mdx z płyt CD, DVD, Blu-ray
Kompresuj swoje obrazy
Chroń obrazy za pomocą hasła
Zarządzaj swoim Zbiorem Obrazów
Wirtualizacja napędów
Stwórz do 4 napędów wirtualnych (razem DT i SCSI), aby montować kilka obrazów jednocześnie
Dostosuj parametry napędów wirtualnych: zmieniaj literę napędu, region DVD, itp.
Prosty interfejs użytkownika z podstawową integracją systemu
Otrzymaj możliwość szybkiego dostępu do wszystkich funkcji poprzez znaczek programu w Schowku Systemowym
Korzystaj z Łączenia plików by montować obrazy bezpośrednio z Eksploratora Windows
Korzystaj z wielofunkcyjnego Interfejsu Wiersza Poleceń aby zautomatyzować pracę
Możliwość wykonywania podstawowych czynności za pomocą wygodnego gadżetu DAEMON Tools Gadget na Pulpicie Windows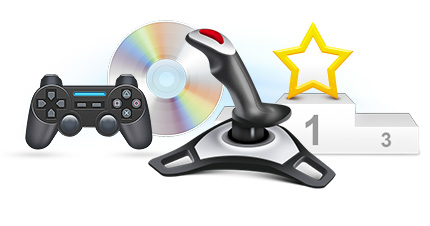 MountSpace
- statystyki online wykorzystania wirtualnych napędów
Bądź na bieżąco ze statystykami wykorzystania obrazów płyt
Znajdź 100 najpopularniejszych obrazów
Wyszukuj inne płyty podobne do Twoich
Wyszukuj obrazów których nie posiadasz
Przeglądaj najciekawsze filmy z gier i wiele, wiele innych
Recenzje
LIFEHACKER.com
"Last week we asked you to share your favorite disk image tools, then we rounded up the five most popular responses for a vote. Now we're back to highlight your favorite.DAEMON Tools led the pack by a comfortable margin with 40% of the vote."
Softpedia.com
"DAEMON Tools Lite is a software solution that will impress you, especially thanks to its advanced features that can deal with virtually all image formats on the market.Reliable application that creates virtual drives on your computer, providing you with the possiblity to emulate CDs and DVDs for instant access."
PCWorld.com
"If you spend a lot of time swapping and hence waiting on CDs or DVDs to mount, Daemon Tools Lite is worth its weight in gold. Even if you don't, it's a program you should download to keep in your bag of tricks--you'll find a use for it eventually."
Download.com
"The advantage is that you can burn the images you're using with DAEMON Tools Lite right away or just test an image before burning it to see if it was created correctly. DAEMON Tools Lite works with most image formats."
Softpedia.com
"...whatever you say this thing is worth every bit of it!
This program is excellent, and I highly recommend it. :)
When you want to load up an image, just right click the icon, and with a few menu clicks and a little folder browsing to file your image you have your image working as if its an actual burned image in a physical drive."
Filecluster.com
"Pros
- Small and highly stable program.
- Low resource requirements.
- Simple and functional interface..."
Nagrody