DAEMON Tools Lite 5
5.0
Most popular product that offers easy tools for making simple disc image files and emulating virtual CD/DVD drives.
Características clave

Funcionalidad
Monte imágenes de disco *.mdx, *.mds/*.mdf, *.iso, *.b5t, *.b6t, *.bwt, *.ccd, *.cdi, *.bin/*.cue, *.ape/*.cue, *.flac/*.cue, *.nrg, *.isz en una unidad virtual
Funciona con archivos *.vhd, *.vmdk y TrueCrypt
Cree imágenes .iso, *.mds/*.mdf y *.mdx de discos CD, DVD, Blu-ray
Comprima sus imágenes para ahorrar espacio en disco duro
Proteja imágenes con contraseña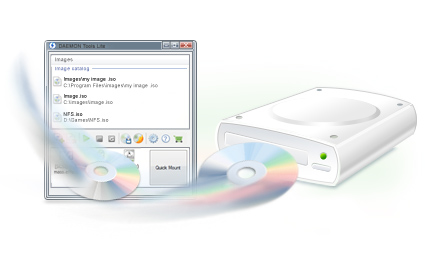 Administración de dispositivos más fácil
Haga doble clic en una imagen para montarla o administre dispositivos virtuales en forma manual
Trabaje con dispositivos virtuales solo cuando sea necesario
Cree hasta 4 dispositivos DT, SCSI o HDD
Personalice dispositivos virtuales (letra del dispositivo, región de DVD, etc.)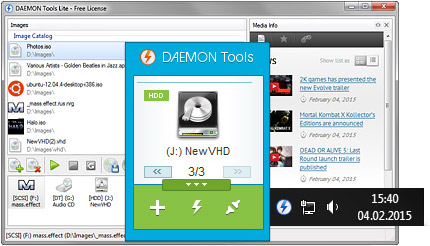 Interfaz de usuario simple con integración básica de sistema
Obtenga acceso rápido a todas las funcionalidades a través del icono del programa en la Bandeja de sistema
Use Asociaciones de archivos para montar imágenes directamente desde from Windows Explorer
Use la poderosa Interfaz de Línea de Comandos para fines de automatización
Realice acciones básicas mediante el útil Gadget de DAEMON Tools en el escritorio de Windows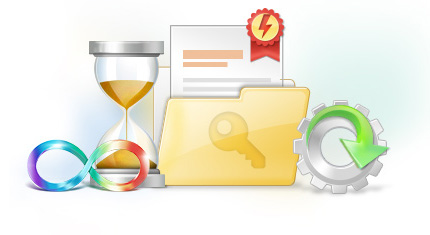 DAEMON Tools Lite para uso personal
Obtenga actualizaciones gratuitas de por vida
Instale DAEMON Tools Lite en 3 PCs
Olvídese de las ofertas de terceros
Sea el primero en la cola de soporte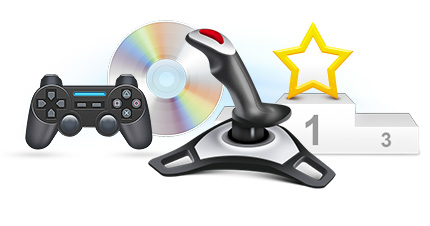 Obtenga gráficas impresas de juegos, descripciones y más para archivos de imagen listados en su catálogo
Encuentre las imágenes más populares
Obtenga recomendaciones
Disfrute noticias de juegos, críticas, videos, concursos y más
Qué es lo nuevo:
Ofrece la opción Quick Mount;
Monta archivos VHD, VMDK, TrueCrypt;
Proporciona una mayor facilidad de uso;
Compatible con Windows 10;
Soporta x64/x86;
Funciona con dispositivos mejor y más rápido.
Windows 98




32-bit




up to 3.47

Windows 2000 SP4




32-bit




up to 4.35.6

Windows XP




SP3 32-bit / SP2 64-bit




Windows Vista




32-bit / 64-bit




Windows Server 2008




32-bit / 64-bit




Windows 7




32-bit / 64-bit




4.35.5 o más tarde

Windows Server 2008 R2




64-bit




4.35.5 o más tarde

Windows 8




32-bit / 64-bit




4.46.1

Windows 8.1




32-bit / 64-bit




4.48.1 o más tarde

Windows 10




32-bit / 64-bit




5.0.1
Comentarios
LIFEHACKER.com
"Last week we asked you to share your favorite disk image tools, then we rounded up the five most popular responses for a vote. Now we're back to highlight your favorite.DAEMON Tools led the pack by a comfortable margin with 40% of the vote."
Softpedia.com
"DAEMON Tools Lite is a software solution that will impress you, especially thanks to its advanced features that can deal with virtually all image formats on the market.Reliable application that creates virtual drives on your computer, providing you with the possiblity to emulate CDs and DVDs for instant access."
PCWorld.com
"If you spend a lot of time swapping and hence waiting on CDs or DVDs to mount, Daemon Tools Lite is worth its weight in gold. Even if you don't, it's a program you should download to keep in your bag of tricks--you'll find a use for it eventually."
Download.com
"The advantage is that you can burn the images you're using with DAEMON Tools Lite right away or just test an image before burning it to see if it was created correctly. DAEMON Tools Lite works with most image formats."
Softpedia.com
"...whatever you say this thing is worth every bit of it!
This program is excellent, and I highly recommend it. :)
When you want to load up an image, just right click the icon, and with a few menu clicks and a little folder browsing to file your image you have your image working as if its an actual burned image in a physical drive."
Filecluster.com
"Pros
- Small and highly stable program.
- Low resource requirements.
- Simple and functional interface..."
Premios